Our Products
VX520
The VX 520 is a reliable, rugged countertop device that's built to last. It handles encryption, decryption and processing at lightning speeds thanks to its powerful processor and expandable memory. Integrated NFC capabilities support alternative payments and also supports value-added applications such as loyalty or gift card acceptance. A full range of connectivity options, from dial to dial plus Ethernet, with an optional battery allows the VX 520 to go wherever you go. A uniquely designed communication port area underneath the device keeps countertops neat and free of clutter.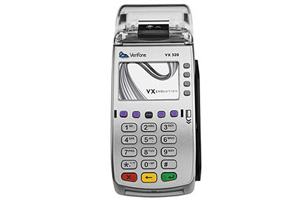 vx805
The VX 820, with its high resolution 3.5″ color touch screen and illuminated backlight keys, ensures readability and usability in any environment. It enables you to deliver targeted promotions and branding messages, resulting in a pleasant customer experience and increased loyalty, ultimately leading to greater revenue.
While consumers can use the VX 820 PIN pad to enter their PINs for convenient and private payments, merchants can display their logos and other graphics to improve customer recognition and loyalty.
The future-proof VX 820 supports credit, debit and EMV transactions, and includes integrated NFC/contactless technology for alternative payments. The slim, stylish payment device is easy to use, and backed by the secure VX Evolution platform.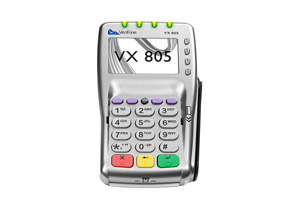 vx680
Carry brilliance and complete transactions in a small, portable, handheld device – the VX 680. Merchants on the move, from delivery services and stadium vendors to restaurant pay-at-the-table service providers can process on-the-spot transactions with minimal consumer waiting time.
The VX 680 boasts a powerful processor for ultimate processing speed. Merchants using the VX 680 keep lines moving so consumers don't have to wait. Comes with a 3.5″ touch display of vibrant color and backed by the VX Evolution platform.
Verifone's VX 680 3G is equipped with HSPA+ 3G, making it one of the fastest portable, handheld payment devices on the market today. The increased speed allows merchants to download apps and software upgrades quickly. With 3G, devices will have a large enough bandwidth to download colorful graphics, pictures and videos quickly onto the POS display, enhancing the user experience. If you choose to add GPS, you can track your fleet of devices in the field or place territory limitations, giving you peace of mind. The VX 680 3G is the way to go to maximize performance and power up your business potential.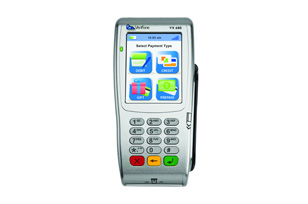 Clover Station
CloverTM Station is a next-generation control system that radically simplifies your business. It helps you track inventory, manage employees, gain customer insight to build stronger, lasting customer relationships, and accept payments with ease.
Benefits for Business
Clover Station arrives pre-loaded with everything you need to accept payments and run your business more efficiently. Its cloud-based software enables you to manage your inventory, track revenues, and generate reports—empowering you to see inside your operations and work smarter.
With every sale, the Clover Solution automatically tracks inventory and builds a transaction record. Customers can opt-in to loyalty programs so you can start building lasting relationships and drive repeat business.
Run reports that distill your transaction data into powerful intelligence, and use insights to make better decisions.
Safeguard your customers' card data with the latest in security technology.
Software updates are automatically delivered to your device, so you'll always have the latest version and the strongest security features.
Exponentially grow your system's capabilities by adding Apps from the ever-expanding Clover App Market. This incredible flexibility ensures that Clover Station can evolve with your business for years to come.